Orange County Criminal Attorney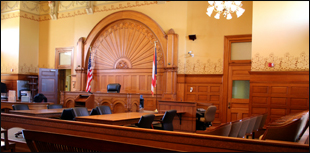 Orange County Criminal Defense Attorney information: Our criminal defense attorney practices criminal defense law and DUI defense law in Orange County, California. Orange County is centrally located in Southern California just next to Los Angeles County, Riverside County, and San Diego County. Orange County has several courts located through out the county that handle Orange County's criminal cases. The main criminal courts in Orange County California are the Central Justice Center which is in Santa Ana, the North Justice Center in Fullerton, the West Justice Center in Westminster, and the Harbor Justice Center in Newport Beach. If your are being charged or investigated for a criminal offense in Orange County, you may need a criminal defense lawyer in the criminal investigation process or criminal court proceedings. Contact a criminal defense attorney for help with your Orange County criminal legal problem. Protect your legal rights.
The Orange County Central Court (Central Justice Center) is located at 700 Civic Center West, Santa Ana, CA 92702 and services local cities such as Santa Ana, Orange, and Tustin. Click on the links for additional information about the Orange County Central Justice Center, the Santa Ana Police Department, and/or the Orange County Sheriff's Department. These sites may be helpful for finding information on your Orange County criminal case.
The Harbor Justice Center is located at 4601 Jamboree Road, Newport Beach, CA 92660 and services local cities such as Newport Beach, Irvine, Costa Mesa, Corona Del Mar, and Laguna Beach. For internet information about the arresting law enforcement agency such as the Newport Beach Police Department, Costa Mesa Police Department, Laguna Beach Police Department or Irvine Police Department, please click on the respective links above. If you have been arrested for a criminal matter in communities such as Newport Beach, Costa Mesa, Irvine, or Laguna Beach you will most likely have to go to the Newport Beach Court (Harbor Justice Center) for the criminal charge and should consult with a criminal defense attorney.
The Westminster Court (West Justice Center) is located at 8141 13th Street, Westminster, CA 92683 and services local cities such as Huntington Beach, Westminster, Seal Beach, and Fountain Valley, California. Please click on the links for more detailed internet information on the city of Huntington Beach Police Department, Westminster Police Department, or Seal Beach Police Department. As an alternative for jail sentencing consistant with court sentencing orders access the Seal Beach Detention Center. If you are being charged with a criminal offense in Westminster, Huntington Beach, or Seal Beach it is a good idea to have a knowledgeable Orange County criminal attorney prepared to fight for your rights and interest so that you may put the criminal charge behind you as quickly as possible.
The Fullerton Court (North Justice Center) is located at 1275 North Berkeley Avenue Fullerton, CA 92832 and services the communities of Anaheim, Brea, Buena Park, Fullerton, La Habra, La Palma, Placentia, and Yorba Linda.
Our Southern California criminal attorney serves greater Los Angeles and Orange County in communities such as Long Beach, Newport Beach, Santa Ana, Irvine, Westminster, Costa Mesa, Huntington Beach, and Laguna Beach and routinely appears in the local courts such as the Orange County Central Courthouse (Santa Ana Court), Newport Beach Courthouse (Harbor Justice Center), Westminster Courthouse, Fullerton Courthouse, Los Angeles Courts, North County San Diego Courthouse (Vista Court), Riverside Courts, and Long Beach Courthouse. Contact an Orange County criminal attorney in our Newport Beach office for further help with your Southern California criminal law charges.
Read More About Crminal Law
|
DUI Tips
|
DUI Evidence
|
DUI Forensic Toxicology
|
DUI (B.A.C.) Blood Alcohol Content
|
DUI Field Sobriety Tests
|
DUI DMV Hearings
|
Suspended Drivers License Violations
|
Felony DUI
|
Anaheim Criminal Attorney
|
Costa Mesa Criminal Attorney
|
Irvine Criminal Attorney